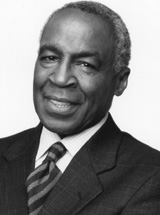 "Do not use any facet of yourself that you perceive as a handicap as an excuse... be prepared to go over, through and around."
- Robert Guillaume, during his 1992 commencement speech at Tennessee State University
The distinguished career of Robert Guillaume is one in which he followed his own advice. Growing up impoverished in St. Louis, he was raised by his maternal grandmother, whom he credits for his success. "Her drive became my drive," he says about his grandmother, who worked as a domestic and took in laundry to support the family.
After a stint in the United States Army, Guillaume attended St. Louis University as a business administration major. He later held down short-term jobs ranging from cook to streetcar conductor while training his voice in hopes of one day singing tenor at the Metropolitan Opera.
Robert's vocal talent was recognized while he attended Washington University in St. Louis by Leslie Chabay, artist in residence, who arranged a scholarship for him at the Aspen Music Festival. That appearance started an immediate upswing in his career, which resulted in his apprenticeship at Cleveland's Karamu Theatre. It was there he made his semi-professional debut in both operas and musical comedy.
Not long after moving to New York City, he became one of the stage's best-reviewed young actors. He had much success in productions of "Kwamina," "Bambouche," "Tambourines to Glory," "Othello," "Porgy and Bess," and the long-running "Jacques Brel is Alive and Well and Living in Paris." He went on to even greater acclaim in "Purlie," "Golden Boy" with Sammy Davis, Jr., and "Guy and Dolls," which earned him a Tony nomination for his performance as Nathan Detroit.
After guest-starring in several of the black-oriented television sitcoms in the 1970's, Robert was cast in 1977 as the outspoken family butler, Benson DuBois, in the daytime-drama parody "Soap." Guillaume admits that many of Benson's more contentious traits sprang from Guillaume's own prickly personality. That role won Guillaume a 1978 Emmy Award as "Outstanding Supporting Actor in a Comedy Series."
In 1979, Robert carried over his "Soap" role into his own starring series, "Benson." Behind the scenes, Guillaume battled producers over his portrayal of Benson. Guillaume says it was his idea to confer upward mobility on his sitcom character, going from self-possessed butler to state budget director to lieutenant governor. It was a lesson in the possibilities of applied intelligence, character, and hard work which was not lost on many Americans born into lower income families. The result netted Robert another Emmy Award as "Outstanding Lead Actor in a Comedy Series." Guillaume adds, "Benson was a common man, but he didn't have to be subservient. Of course he was ambitious. Aren't all Americans? That's what I wanted him to be."
He also starred in several theatrical films, including "Lean on Me," "Death Warrant," "Seems Like Old Times," and "The Lion King," as the voice of Rafiki. Guillaume won a Grammy Award for his reading as Rafiki on the audio tape version of "The Lion King." With his powerful voice, Guillaume received rave reviews during his eight months as star of the Los Angeles production of "The Phantom of the Opera."
In 1992, Robert and his wife, Donna, began The Confetti Company. The company publishes read-along books and audio cassettes of traditional fairy tales written with a multi-ethnic approach. The books are a critical and commercial success. They are also a favorite of their lovely daughter, Rachel.
Among his accomplishments, Robert and Donna also produced "You Must Remember This" for PBS and "Happily Ever After" for HBO, a group of ethnically diverse fairy tales which he narrated.
Robert also headlined and executive produced the 1989 television series, "The Robert Guillaume Show," where he played a divorced marriage counselor, Edward Sawyer. Other television work also included "John Grin's Christmas," which he wrote, directed and starred in, "North and South," "L.A. Law," "Saved by an Angel," "Pacific Station," and, of course, "Sports Night."
As Isaac Jaffee, the brainy, compassionate executive producer of a fictional all-sports cable channel on ABC's Sports Night, Guillaume created another memorable character. "I liked playing the wise old man," he says. "I related to Jaffee, who'd earned his stripes as a workaday journalist." He suffered a mild stroke in January of 2000, only to return months later in the season-finale, "What Kind of Day Has it Been." Instead of pushing Guillaume aside, Aaron Sorkin wrote Guillaume's stroke into the storyline.
In addition to his work as a performer, Robert Guillaume has generously given both time and resources to numerous charitable and social organizations, among them, TransAfrica, AmFAR, Sickle Cell Disease Association of America and Artists for a New South Africa. He also serves as Honorary Campaign Chairperson for the Association of Black Cardiologists.
In 2002, Robert released his autobiography, "Guillaume: A Life." In December of 2002, Guillaume became the main focus for an exhibit at the Smithsonian Anacostia Museum & Center for African-American History and Culture. "Roles, Reaction, and Reality: The Collection of Robert Guillaume" highlights his career with various presentations including articles, press releases, and taped footage. He also hopes his grandmother's message comes through at the Anacostia. Kids who see the show will find an emphasis on the importance of "focusing on a goal," he says.
Guillaume stresses that it was his academic studies which prepared him to take advantage of artistic opportunities. "I'd say it was a firmly grounded early education which made me unafraid of the English language."
"Today, a lot of young people cannot speak the language. Moreover, they think there is nobility in not being able to do so. These youngsters must have totally missed the point."
"As a television performer... I sought to avoid the stereotypical sociological traps. I always wanted kids of any background to understand the characters I've portrayed were real, that the solutions they found were true and possible. It has always been important to me to stress that there was no diminution of power or universality just because my characters are African-Americans."
Not only has Guillaume done that, but he has shined amongst us all.